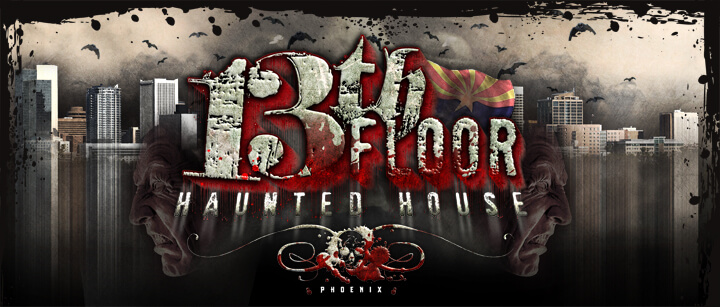 TO FIND MORE HAUNTED HOUSES IN TUCSON
There are some main general reasons why different haunted houses across the country have become famous in our industry and why articles are written about them. They may have epic and over the top sets. Their staff could be over 100 members strong. They tend to create impeccably detailed costumes. They incorporate stunts into their shows. They have one of a kind animations. Their marketing is flashy and innovative. They have been ranked on multiple top haunted lists. They were the first of their kind. They are the last of their kind. They have been nationally covered in the media. Their owners are well known in the industry. They blow stuff up with pyrotechnics. They have endured decades of business. They stay true to their roots. They always change. There is something they do different. They are the benchmark. They sell a LOT of tickets. The list goes on and on.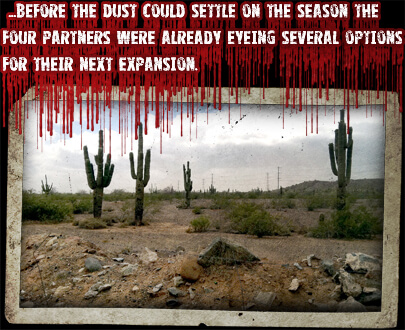 When Hauntworld Magazine was invited for a very special and very private sneak preview of Arizona's new 60,000 square foot behemoth, the 13th Floor Haunted House Phoenix, we expected to find a great haunted house with a few of the above elements masterfully integrated into a massive show. What else would you expect from a partnership that couples the explosively creative minds behind the House of Torment in Austin Texas with the dynamic genius of Denver Colorado's Asylum and 13th Floor, right? Well, we found that and more. Vivid excerpts of incredible accomplishment, sexy details on the best scares and effects, and intriguing tid bits of inside information were in no short supply after a walk through this place. Below the surface though, past all of the incredible eye candy, energetic experiences, and in your face action we found a deep rooted story of old pasts, new beginnings, and forward thinking ideas that ended up being the catalyst for the production of this must see show. So we start at the beginning, in Salt Lake City, at Rocky Point Haunted House.
Rocky Point Haunted House had long been a show of epic proportion. It was a haunted house that broke down barriers, pushed the envelope, and no matter if you loved it or hated it, there was a universal truth about its beauty and its detail. For those of you too young to know or too unfortunate to have never been, Rocky Point was amazing and widely considered one of the best haunted houses in the country. In addition to creating its own unique movie quality sets and scares, it commonly used items that at one point were actually in movies. The producers of Rocky Point would purchase and revamp movie sets after filming would wrap. In fact, it was so good, it had a full length feature film shot inside of its walls at one time. Rocky Point was incredible in every way and was ran very well, but after the 2006 season a bold decision was made to lay a legend, a giant, a place of inspiration and beauty to rest and Rocky Point shut its doors. It was opened for one last run in March of 2007, celebrated by all who came, and then in a feverish cyclone, auctioned off piece by piece. Rocky point Haunted House, was gone.
"The Auction was surreal" says Chris Stafford Partner, Screamworks Entertainment LLC and Managing partner 13th Floor Haunted House Phoenix. "Things were sold at a premium which was great for Cydney. I mean the place was an icon in the industry for so many years. If I ever had to auction my place that's the way I'd want it to go. So many people showed up but, at the end it was still sad. After the Auction closed out and everyone got their stuff all that was left was a few used up saw all blades and a pile of dust. The show was gone, and that was it."

Chris Stafford and his business partner Warren Conard left that auction empty handed and headed back to Denver, CO to focus their own business. They quickly grew their Denver operation over the next several years into a haunted powerhouse that became the market leader in a city housing over 20 competitors. All the while in Austin Texas, a rogue wave was growing in size and force as Dan McCullough and Jon Love were developing the infamous House of Torment into a market leader of its own. In 2008, The House of Torment crashed upon the shores of the industry by storm taking notice by many. Chris and Warren met Jon and Dan at a tradeshow through mutual friends in the industry and over the course of the next several months formed a friend ship and then a company with one goal in mind, expansion. Together the four developed an aggressive plan to expand into new markets and in 2010 opened the 13th Floor Haunted House San Antonio. Their first year was a smashing success and before the dust could settle on the season the four partners were already eyeing several options for their next expansion. After an exhaustive search and considering several options, Phoenix almost missed the cut.
"Very early into 2011 I got a call that changed everything" says Stafford. "We were knee deep into another market and very close to pulling the trigger. Everything was lined up and ready to go. Then I get this call about buying a very large portion of what was once Rocky Point. It just didn't make sense. I knew there were a few guys at the auction that bid on a lot of things but my assumption was that the show was scattered. After a long conversation though it started to make sense. At the auction there had been an individual that bid on lots of major items. Whole room lots and had won many. I didn't realize how much of that show he had won until this conversation. He had what I considered to be the 'heart' of Rocky Point, the most recognizable sets like the graveyard stage area, the haunted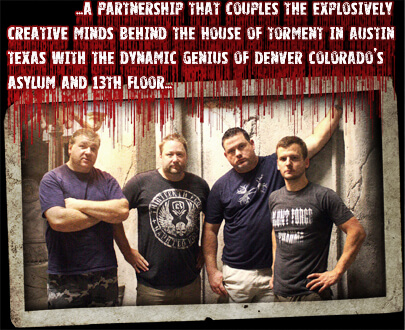 mansion, the asylum, and Pirates of the Scareibbean, and more. Turns out he had it shipped it all to Phoenix but unfortunately had gotten into a jam after a stroke of bad luck. I was told the show was set up ready to look at. The four of us were on a plane the next day."
After several trips, phone calls, and rounds of negotiation, Dan, Warren, Jon and Chris made a final decision on where their next location would be and executed the purchase.
"Acquiring a majority of what used to be Rocky Point was very exciting and in many ways an honor for us. But, most importantly, it was a place to start" says Love.
Soon after the acquisition, planning began, trips were scheduled, drawings were submitted, and a massive non stop 24/7 construction project was put into motion. Two attractions were scheduled to be built. First would be The 13th Floor Haunted House as a main show of which Rocky Point would be the base. Second would be a project from the ground up that would deviate entirely from traditional haunted house design pushing innovation forward, Zombieland. Hauntworld had a chance to tour both during the final stages of construction and simply put, this haunted house blew us away.
The 13th Floor Phoenix
As ironic as it sounds, the 13th Floor Phoenix is really the story of a Phoenix. Think about it. A legendary show was closed and auctioned off. Major components of that show were found and have now been reincarnated into what one could easily, metaphorically, refer to as a fiery beast of a haunted house. Too much of a stretch? Doesn't really matter because this haunted house rocks! Using the famed Salt Lake City show as a base, the producers of the 13th Floor have created a new vibrant and impeccably detailed haunted house that could alone be enough for the price of admission. Meticulously crafted scares are complemented by equally detailed scenes that pay homage to classic horror before unraveling into wicked new dimensions of fear. Like the newest installments of the Transformers or Batman movie series the producers of the 13th Floor Phoenix have done an excellent job at preserving the essence of something iconic and classic but liberally adding their own epic and current perspective at the same time.

One such example is the construction of the largest tilted room in Haunted House history that not only invades the equilibrium of patron's minds but also features new stunts and is topped off by many legendary pieces that were once décor in Rocky Point's Frankenstein set. Another would be the addition of a 2,000 square foot chain saw forest that has been built by re purposing Rocky Point foliage and tress and adding in well placed new construction that takes customers through a some-what structured / some what choose your own path agonizing run of full bored torment. And yet another example would be the dozen or so full sized hand carved custom foam worked mausoleums that inject an environment of terror into the once open grave yard by creating a twisted and winding series of scares and structures that engulf customers from all directions.
In short, everything that has been added, everything that has been changed, while paying homage to the legendary Rocky Point base it is built upon, adds an invigorating flare and fresh flavor to this haunted house. The 13th floor is unique in this fact because it has strong and deep classical roots that can be experienced side by side with next generation sets, scares, and sequences. When you are leave you are impressed, you are proud, your are light years beyond satisfied, you are amazed and terrified and after you catch your breath, you are ready for what's next…

Zombieland
"We built an apocalyptic city at the House of Torment in Austin" explains McCullough. "That was our first experimentation in that particular thematic direction. There were a lot of things we did that were cool, but I also learned a lot in building that show. Our haunted house in Austin is incredible but I knew that with this theme the next great step in its true potential would be building one in a giant open space. This was that chance. I wanted this to be the next attraction that pushed the standard in haunt design forward. I feel like I've met that goal."
Walk into Zombieland and you'll immediately know what Dan means. The second show at the 13th Floor Phoenix is not a maze of wall panes or a series of 12x8 rooms. Instead it is an intersection of two roads in a devastated apocalyptic city filled with a variety of realistic environments that enthrall you from all directions. Massive sets built on perspective create panoramic scenes of several city blocks that are witnessed from various angles throughout the show. Customers enter a fortified structure that walls off the city from outside view similar to something you'd see in escape from New York or LA. Once inside customers are directed by piles of rubble, smashed vehicles and other tightly themed set pieces into and out of a variety of shops, residences, and buildings that have been ravaged by the living dead. Spaces are tightly closed in and then suddenly vastly panoramic. No matter which way you turn you are engulfed by the scope of the city itself and then suddenly scared out of your mind by relentless attacks and special effects.

Beyond the custom hand crafted facades and destruction, beyond the overwhelming eye popping symphony of apocalyptic beauty, the genius of Zombieland lies not just in its ferocious onslaught of action, but in its design, its layout, and fundamental idea. "We didn't want to build a haunted house that was simply an interior walkthrough with some peppered in exterior scenes. We wanted every structure to make sense. We wanted to really take people somewhere when they entered the doors to Zombieland, hold on to them through their time here, and not let them go until they walked out of the exit." Says McCullough. Zombieland delivers on this promise and fires on all cylinders from start to finish.
As it stands now, the 13th Floor Phoenix is one of the most dynamic, detailed, creative and innovative haunted houses we've seen step foot in the Valley. Its two attractions are each so well done yet so different they create a unique experience for those that dare to enter. Unlike many attractions in the area they aren't replications of the same thing (be it construction, structure, layout, etc.) with a different theme. The 13h Floor Phoenix and Zombieland are truly individual experiences that take customers to different places for different reasons and each attraction simply put, is big. They are both well done, action packed, detail beyond belief, and stand proud show casing the diverse talents of the production team that built them. You won't want to be the kid on your block that missed the 13th Floor Phoenix.