Chicago, Illinois - 13th Floor Haunted House
By Hauntworld Magazine
TO FIND MORE
HAUNTED HOUSES IN ILLINOIS
Chicago Haunted Houses are some of the scariest and best in America! Hauntworld.com rates and review the best and Scariest haunted houses, haunted attractions, and Halloween events in America! 13th Floor is located in Chicago, Illinois and has one of the scariest haunted houses in America! Prepare to scream! This Halloween you can't miss the scariest and best haunted attraction in the entire state of Illinois, 13th Floor. Their attraction features some of the scariest actors, crazies scenes, and amazing set design. FINALLY CHICAGO you have a first class super scary, very realistic, over the top, monster infested, haunted house to call your own!
Now sit back and read all about the best haunted house in the the Chicago area, 13th Floor.
To learn more about Illinois' 13th Floor visit their websit below: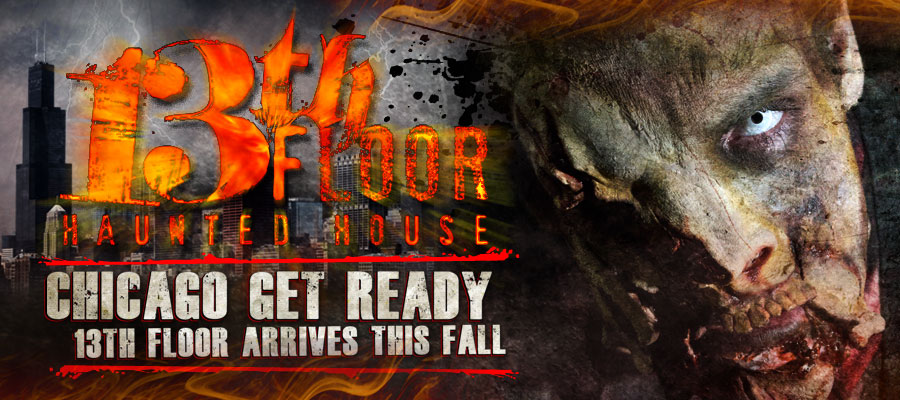 TO FIND MORE
HAUNTED HOUSES IN ILLINOIS
---
In 2014, many haunted houses will be opening in the Windy City but one stands out as Chicago's finest. Among a myriad of attractions ranging from small productions to corn mazes to celebrity endorsed installations, 13th Floor Chicago is a leader among all.
---

Chicago has a rich history of haunted houses and over the past 20 years, some have been major attractions, others have been smaller productions and few have continued to press on through the years. 2014 marks a new chapter for Chicagoland haunted houses and fans. This year, the landscape of haunted houses in Chicago will transform as new organizations and alternative concepts enter the marketplace. The most notable is Thirteenth Floor Entertainment Group's flagship attraction, 13th Floor Haunted House Chicago.

Hauntworld Magazine encourages you to visit each and every haunted house in your city. If you can't go to all of them, go to as many as you can because each haunted house provides a different experience and has something new to offer. If you're in Chicago this haunt season and you are looking to get a great scare, Hauntworld Magazine recommends the 13th Floor. In a city that raises the bar for entertainment, 13th Floor fits perfectly as it sets a new benchmark for haunted houses in the Chicago area. Hauntworld Magazine doesn't take its recommendations lightly and in a city like Chicago, with many haunted house options, it's often difficult to decide. Here are 3 reasons why you should check out the World Famous 13th Floor Haunted House Chicago: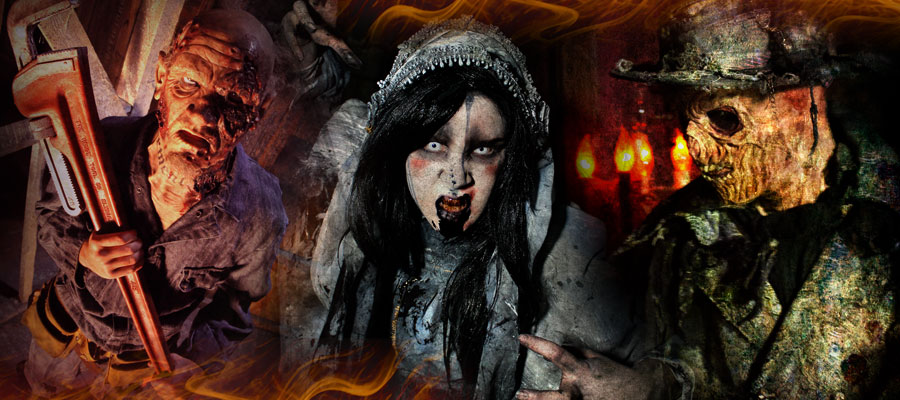 3 Reasons Why 13th Floor Chicago Will Be Chicagoland's Best Haunted House
1. Thirteenth Floor Entertainment Group
Thirteenth Floor Entertainment Group, is the nation's (and potentially the world's) largest haunted house production, management and promotion company. Already producing six of America's top haunted houses each year, 13th Floor Chicago will be the seventh major attraction for the growing industry heavyweight. Thirteenth Floor Entertainment Group manages this accomplishment by employing 20 of the industry's top professionals year round and 1,000 people seasonally to execute its singular core mission: produce incredible haunted houses and guest experiences. Their fulltime team of 20 includes: Artists, Craftsmen, Designers, Marketers and Managers with backgrounds ranging from film and television production to commercial construction and banking. When this talented group of minds focus their efforts on a single purpose, they create big budget haunted houses that rival theme parks and movies in production value and scale. While the Windy City is home to a handful of large haunted houses, no other haunted house producer comes within arm's reach of Thirteenth Floor and the scale of its production capabilities. Thirteenth Floor Entertainment Group has brought it's "A" game with this new permanent installation and the producers have called this haunted house,
"Our most ambitious and incredible project to date,"
which says a lot considering Thirteenth Floor Entertainment Group also produces:
•
House of Torment in Austin, TX
•
13th Floor Haunted House in Denver, CO
•
13th Floor Haunted House in Phoenix, AZ
•
13th Floor Haunted House in San Antonio, TX
•
Asylum Haunted House in Denver, CO
•
Fear Farm in Phoenix, AZ
---
2. A Product Centric Approach
Haunted houses pride themselves on different things and sometimes seem to get caught up in gimmicks. Some focus on having multiple attractions,
"10 at one location for one low price."
Some focus on offensive content and the extreme,
"Only come if you're over 18 and be prepared to have your night ruined."
Some hope their endorsements are enough to carry them through and some simply focus on one unique element,
"Corn is scary and there are acres of corn."
Some of these gimmicks may work, others may not, but 13th Floor Chicago's approach departs from all of the noise. Instead, 13th Floor's energy and effort is put into being the best at one thing, the product.
The "product" to the 13th Floor is the guest experience and its relationship to its attractions and monsters. It's the social exercise of getting your friends together, getting your tickets and spending your night visiting an incredible haunted house. You and your friends even have multiple ticket options to choose from including: waiting, you don't mind waiting for a little while and you hate waiting and want to go in immediately. 13th Floor's entire guest experience is built around thrilling entertainment and it's all by design.
At 13th Floor Chicago you are entertained and scared from the moment you arrive to the moment you leave. Monsters and creatures from outofthisworld interact with you while you wait in line. The haunted attractions you experience at 13th Floor Chicago are built on a scale like no other and from a designer's perspective are,
"drop dead gorgeous and awe inspiring."
From the architectural detail on the massive facades to the thoughtful set pieces in every room, it's easy to tell that the scenic work was executed by veteran set dressers and designers from Hollywood to New York sound stages. Customer's can see the depth of engineering and design that went into the construction of the massive environments the lighting and sound design is spot on creating a space where the detail of the setting can be appreciated, where the mood is properly set. However, the stars of the show are the performers that interact with and scare you. They reach, grab, slide, vault and drop in with impressive performance sequences and stunts. The scares are innovative, creative, unexpected and the performance style jumps between offthecharts intensity to bits of wellplaced theatrical dialogue that unravel a story throughout your journey. When you are done, you're out of breath, excited, thrilled and terrified. You've had a great time with your friends and you feel like you just experienced not only a good haunted house but a memorable experience.
---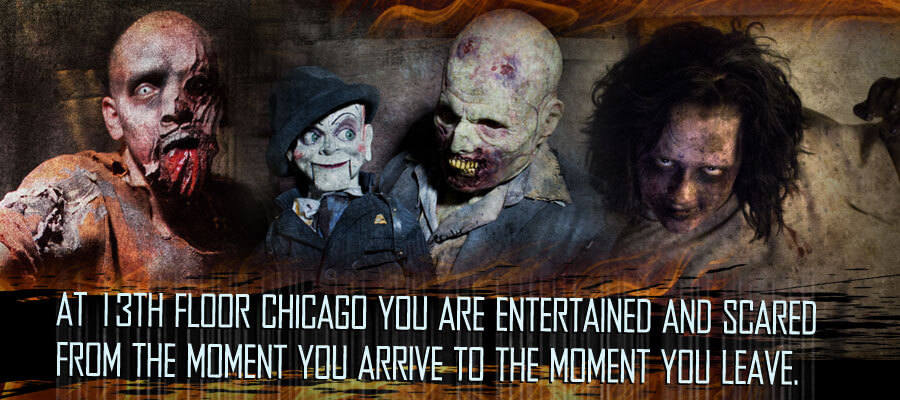 3. Production Value
13th Floor Chicago features 2 attractions that span 30,000 square feet: The Rising and The Dead End District. Each carries a different theme and is anchored by an original Icon Character and large cast of monsters and creatures. Though thematically different, each of the two attractions has one major thing in common: production value, production value and more production value. It's as if the producers of 13th Floor watched the film Super 8 and took all of the dialogue about production value as scripture. Hauntworld Magazine was able to sit down with Daniel McCullough, one of the partners and producers of 13th Floor Chicago, and talk about production value and how they pulled it off.

HW: This place is pretty incredible. Some of these sets are the largest I've seen in a haunted house. Tell me about how you approached this design.
DM: I knew that coming into Chicago we'd need to do something over the top. Back in Texas, where I'm from, the saying around the shop is, "Go big or go home." In Chicago, I think we took that to the extreme in our design and in our execution. I love building massive sets with incredible scenic work. I think at this point in my career, it's expected of me.

HW: How were you able to acquire such a variety of set pieces and in such large quantity?
DM: There were three major contributing factors. First, doing a series of top notch medical scenes was high on my priority list. My Senior Project Manager found a guy selling an old decrepit hospital. We made a deal and for about a week after that, our team went on a horror version of American Pickers on steroids. We filled up several box trucks with lots of amazing pieces. Second, a similar situation occurred in Las Vegas with Eli Roth's Goretorium. It was rumored to be a $10 million dollar build out, but who really knows. The year round concept didn't work for them and when they closed down they reached out to us. We made a deal and the following week we filled up seven tractor trailers with more amazing pieces. Third, our Managing Partner also brought some really great stuff to the table including multiple facades and set pieces that had recently been used on Broadway in some big productions. All of these acquisitions really enabled us to create our best haunted houses ever.

HW: An abandoned hospital, a multimillion dollar production in Las Vegas, Broadway…that's impressive. How hard was it to incorporate those elements into your design?
DM: It really wasn't hard and the design evolved along the way to incorporate them. In fact, it really just enabled my production team to focus more time on doing their best scenic work to date instead of spending countless hours searching items like these out. I think because we were able to make these incredible acquisitions, we were given the opportunity to do all of the over the top set construction you see around us.
HW: What advice would you give other haunted house owners on creating production value like this in their attractions?
DM:
You need two things: people and money. The people that work for me are the most important asset in our company. If you want your haunted house to look like this, go find some people to work with that used to work in Hollywood or New York on major motion pictures. If you want to execute a project like this, go find some of the top folks in the industry and partner with them or work with them. Then be prepared to spend hundreds of thousands of dollars and then some more after that.
HW: Anything else you'd like to add about the show?
DM:
I've been doing this for 12 years and have built some of the top haunted houses in the country. This is the most impressive haunted house my team and I have ever built and I can't wait for the people of Chicago to experience it this fall.
HW: What's in store for the future?
DM:
In regards to our future, my business partners and I share a common vision. To quote Walt Disney,
"Around here, however, we don't look backwards for very long. We keep moving forward, opening up new doors and doing new things, because we're curious...and curiosity keeps leading us down new paths."
---